Further Reading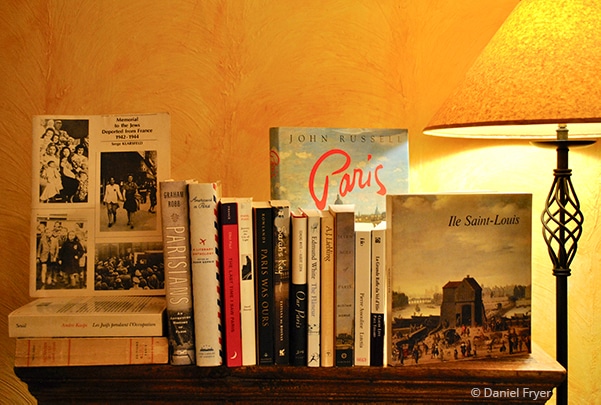 I am a part of all that I have met;
Yet all experience is an arch wherethrough
Gleams that untravelled world, whose margin fades
For ever and for ever when I move.
Like Tennyson's Ulysses, I am forever drawn by gleams of a distant horizon. But it's through books rather than boats that I have glimpsed the untraveled world. And by one of those serendipitous encounters that delight a writer's heart, it was at an idiosyncratic bookstore called Librairie Ulysse on the Île Saint-Louis, browsing through many a travel book, I bought one about the island where I was staying at the time. Sometimes, you travel farther when you go deep rather than wide.
Theodore Roosevelt famously said, I am a part of everything I have read. For me, all I have read is a part of me, contributing its shards of remembrance, its refracted afterglow, to every word I write.
A debt like this can never be fully acknowledged, let alone repaid, but I am particularly grateful to the testimony of all those who witnessed this dark chapter in world history, which so many did not survive. Le cordon, Marc Danzon's family memoir, is one such account. La Grande Rafle du Vel d'Hiv by Claude Lévy and Paul Tillard offers a comprehensive and harrowing account of the largest single roundup of Jews in Paris, and Serge Klarsfeld's meticulously and passionately researched Memorial to the Jews Deported from France 1942-1944 shines a searchlight into the 'night and fog' meant to obscure the names of the disappeared.
Other books I found illuminating: Janet Flanner's Paris Was Yesterday (as well as her Letters from Paris for The New Yorker), Edmund White's The Flâneur, Robert Daley's Portraits of France, Graham Robb's Parisians, Andrew Hussey's Paris: The Secret History, Alistair Horne's Seven Ages of Paris, Robert Cole's A Traveller's History of Paris, Colin Jones's Paris: The Biography of a City and David Downie's Paris, Paris: Journey into the City of Light.
So many Americans have written so much about Paris, and for those wondering where to begin, two anthologies provide a nice cross-section: Americans in Paris: A Literary Anthology, edited by Adam Gopnik; and Paris Was Ours, edited by Penelope Rowlands.
If history gives us a window into the past, fiction offers a key to hidden doors. Novels like Tatiana de Rosnay's Sarah's Key and Anthony Doerr's All the Light We Cannot See allow us to enter the dark years—les années noires—when France was occupied by the Nazis. Pierre Assouline's Lutetia tells the story of the fabled hotel where the survivors were lodged when they returned from the death camps. And perhaps most poignantly, Irène Némirovsky, one of those who did not return, left behind the manuscript for what would be posthumously published as Suite Française; her two daughters escaped their mother's fate, and one of them, Élisabeth Gille, wrote a fictionalized account of her own wartime experiences (Shadows of A Childhood) and summoned her mother back from the grave in her 'dreamed memoirs' (The Mirador).
And for all those who visit this city and fall in love with it, A. J. Liebling's Between Meals: An Appetite for Paris, John Russell's Paris, and Ernest Hemingway's A Moveable Feast offer a never-ending banquet of delights.